hearing
The ear tends to be lazy, craves the familiar and is shocked by the unexpected; the eye, on the other hand, tends to be impatient, craves the novel and is bored by repetition.
(Wystan Hugh Auden, 1907-1973)
Everything we hear is an opinion, not a fact. Everything we see is a perspective, not the truth.
(Marcus Aurelius 121-180)

5th concert
Friday, 7th December 2018 at 4 p.m., Koper Music School Hall
---
»new generation«


Studio za sodobno glasbo AG Ljubljana
Students
Mentor: Steven Loy


Nova Tergeste Contemporary Ensemble
Milica Tomič, flute
Andrea Corazza, clarinet
Snežana Ačimovič, violin
Maria Dolores Zornoza Olaya, cello
Sebastiano Gubian, piano
Ivan Boaro, percussion
Mattia Piani, live electronics
Conductor: Biagio Micciulla
---
PROGR

MM:
Studio za sodobno glasbo AG Ljubljana

Luigi Ceccarelli (1953): Exsultet (1996)
electronic/music and gregorian chant
Urška Pompe (1969): Frfot (2018)
Gašper Livk,bass
Tilen Lebar (1993): Tríptihon (2018)
Duo Antares
Tadeja Žele, Katarina Kozjek, cello
Melani Popit (1998): 4L13N5 (2018)
Una Košir, recorder
Tilen Lebar,alto saxophone
Špela Šrgan, clarinet
Gašper Livk, bass
Joana Gonzáles Subirà, bass
Conductor: Ana Erčulj
Mentor: Uroš Rojko
Giacinto Scelsi (1905-1988): Sauh II (1973)
Neža Vasle, soprano - Anja Šinigoj, mezzosoprano

Nova Tergeste Contemporary Ensemble

Francis Dhomont (1926): Phonurgie (1998)
electronic music
Davide Coppola (1992): La morte e gli orologi,
melologo per voce recitante ed ensemble (2018)
Text: Edgar Allan Poe: The Tell-Tale Heart


first performance in Slovenia
The lucid and disturbing confession of a murderer, so obsessed with the eye of the old roommate as to hear his heart beat... even after death!
---

The Nova Tergeste Contemporary Ensemble is a chamber ensemble based in Trieste specialized in contemporary classical music. It was born in the autumn of 2018 from the collaboration of the composer Davide Coppola with musicians from different European countries (Serbia, Spain and Italy). Biagio Micciulla is the main conductor of the ensemble. The aim of the ensemble is, in addition to performing and rediscovering the modern repertoire, to promote and deepen the contemporary musical language by merging it with the visual arts such as theater and dance. All this with a view to seeking and discovering new ways of listening and enjoying for the public, to bring it closer to the music of today.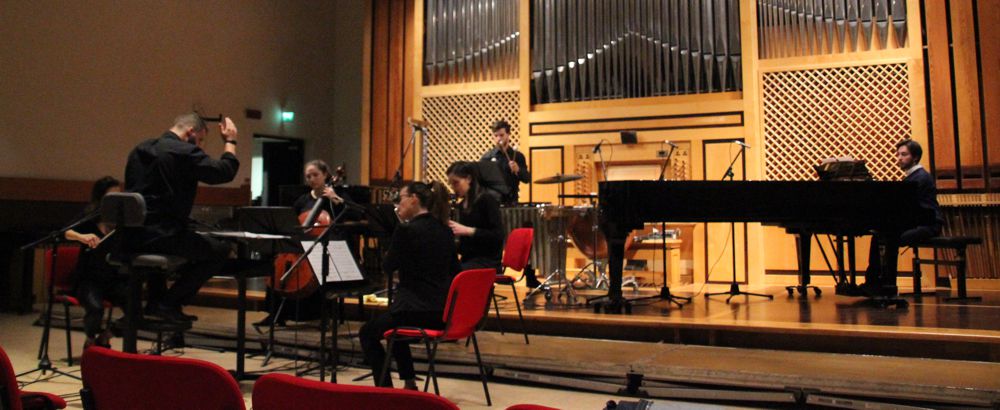 ---